2023
Article by Michel Anderlini, PhD Candidate: "Implementation Is the Hardest Word: Explaining Georgia's (Non)-Compliance with European Union Acquis".
https://www.tandfonline.com/doi/full/10.1080/10758216.2023.2245546
Gamkrelidze, N. (2023). Reimagining Georgia: Images of Georgia Held by the Collective West, Russian, and Georgian Political Elites from 1991 to 2020. Linnaeus University Press. (PhD diss)
Gotfredsen, Katrine B. (2023). South Ossetia: From Autonomy to Occupied Territory. Working paper no 3, Occupied Intimacies, Department of Sociology, Lund University.
Hutcheson, D.S. (2023) 'Russian Electoral Engineering from Perestroika to Putin', Statsvetenskaplig tidskrift, 125(1).
2022
"Fighting for the (Step)Motherland? Predictors of Defense Willingness in Estonia's Post-Soviet Generation" – New publication by Ass. Prof. Christofer Berglund, Södertörn University and Malmö University, Kairi Kasearu, University of Tartu & Juhan Kivirähk, University of Tartu.
Ass. Prof Christofer Berglund and Dr Ketevan Bolkvadze: Sons of the Soil or Servants of the Empire? Profiling the Guardians of Separatism in Abkhazia and South Ossetia – https://www.tandfonline.com/…/10…/10758216.2022.2102039
Berglund, Christofer (2022). Accepting Alien Rule? State-Building Nationalism in Georgia's Azeri Borderland. I: Post-Soviet Conflict Potentials / [ed] Cindy Wittke, Abingdon: Routledge, 2022, 1, s. 113-135
New article "The limits of the Georgia prism in Ukraine", published by RUCARR associate Natia Gamkrelidze (currently at the Davis Center for Russian and Eurasian Studies at Harvard University) and Tinatin Japaridze, Director of Policy and Strategy at The Critical Mass. Published at Middle East Institute, March 2, 2022.
Hutcheson, D.S. (2022) 'National Elections in Russia' in Graeme Gill (ed.) Routledge Handbook of Russian Politics (2nd edn). London/New York: Routledge, 111-126.
2021
Book "We witnessed the break-up", where a group of Swedish and Danish researchers recount their experiences in the Caucasus region during the final years of the Soviet Union. Published in the series Caucasus Studies, edited by Märta-Lisa Magnusson and Karina Vamling, Malmö University, Sweden, 2021.
Berglund, Christofer; Katrine Gotfredsen; Jean Hudson & Bo Petersson (eds, 2021): Language and Society in the Caucasus: Understanding the Past, Navigating the Present. Malmö: Universus Academic Press.
Book "The Putin Predicament" by RUCARR Co-Director Prof. Bo Petersson! We will celebrate this on October 20, 4 pm, at the GPS department, seminar room, 9th floor, Niagara. Bo Petersson will present his book. Welcome!
Gotfredsen, Katrine B. (2021). "Soviet, National, Local? Representations and perceptions of Joseph Stalin as a political and cultural figure in Gori." In: Jahn, Hubertus (ed.), Representations and Identities in Georgia in the 19th and 20th Centuries. Munich: Schriften des Historischen Kollegs.
Hutcheson, D.S. and McAllister, I. (2021), 'Consolidating the Putin regime: The 2020 referendum on Russia's constitutional amendments', Russian Politics 6(3), 355-376. https://doi.org/10.30965/24518921-00603004
Kobaidze Manana, Tchantoura Revaz & Karina Vamling. On olfactory terminology in Georgian and other Kartvelian languages, in volume "The Linguistics of Olfaction": John Benjamins Publishing Company (eds: Łukasz Jędrzejowski and Przemysław Staniewski) [Typological Studies in Language 131] 2021, pp. 113–133
2020
Guranda Bursulaia, PhD Candidate at Free University in Tbilisi (Georgia) and Swedish Institute visiting researcher 2019 at Caucasus Studies, Malmö University, has published: "The voices of silence: The case of Georgian history textbooks". The article appeared in the journal Caucasus Survey and was largely written during the research visit to our department. https://www.tandfonline.com/…/full/10…/23761199.2019.1709784
2019
Dr. Kamal Makili-Aliyev, lecturer in Human Rights at the Dept. of Global Political Studies (Malmö University), has recently published his monograph Contested Territories and International Law: A Comparative Study of the Nagorno-Karabakh Conflict and the Aland Islands Precedent on Routledge. More info: https://www.routledge.com/Contested-Territories-and-International-Law-A-Comparative-Study-of-the/Makili-Aliyev/p/book/9780367373825
Dr. Christofer Berglund's new article Accepting Alien Rule? State-Building Nationalism in Georgia's Azeri Borderland recently appeared in the journal Europe-Asia Studies.
Read more: https://www.tandfonline.com/doi/full/10.1080/09668136.2019.1679091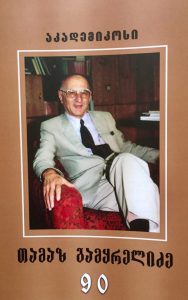 Prof. Karina Vamling published the article New Initiatives in Diachronic Linguistics – Atlases of Language and Culture in the festschrift for Academician Thomas Gamkrelidze – Akademikosi Tamaz Gamqrelidze 90, Tbilisi University Press, 2019. pp. 151-161.
2018
Hutcheson, Derek (2018) Parliamentary Elections in Russia: A Quarter Century of Multi-party Politics (Oxford: Oxford University Press/British Academy). https://global.oup.com/academic/product/parliamentary-elections-in-russia-9780197266281?cc=se&lang=en&# (insert codeAAFLYG6 to save 30%!)
Petersson, Bo (2001, 2018) National Self-Images and Regional Identities in Russia; Ashgate, Aldershot, reprinted in Routledge Revivals series, London: Routledge.
Petersson, Bo (2018a) 'Perspective on the Eastern Enlargement: Triumph of the EU or Seed of Its Destruction?', in B. Engelbrekt, A. Michalski & L. Oxelheim (eds): Trust in the European Union in Challenging Times,London: Palgrave Macmillan/Springer, 41-64.
Petersson, Bo (2018b): 'Book review: Cheng Chen: The Return of Ideology: The Search for Regime Identities in Postcommunist Russia and China', Nationalities Papers, DOI: 10.1080/00905992.2018.1425252
Berglund, Christofer (2018) "Weber's secret admirer in the Caucasus: Saakashvili and the nationalisation of Georgia's Armenian and Azeri borderlands" i Nations and Nationalism: https://onlinelibrary.wiley.com/doi/full/10.1111/nana.12369
Karina Vamling contributed with the article 'O zarubežnoj dejatel'nosti professora M.A. Kumaxova' [On Prof. M.A. Kumakhovs work and research visits abroad] in the volume Xeževa, M.R. (compiler), Muxadin Abubekirovič Kumaxov. Series 'Materialy k bibliografii učёnyx IGI KBNC RAN'. Nal'chik: Izd. otdel IGI KBNC RAN, 91-94.
Revaz Tchantouria published a dictionary with the Georgian Saba Publishers and saw his book exhibited at the Frankfurt Book Fair: Basque–Georgian–Russian Dictionary (Oct. 2018).
A new issue in the series Caucasus Studies has appeared. Number 5 Complementation in the Northwest and South Caucasian Languages includes two articles on complementation in the Abkhazo-Adyghe and Kartvelian languages.
As a contribution to Georgian-Swedish literary contacts, Manana Kock Kobaidze (with Kristian Carlsson) has translated works by Georgian poets into Swedish in the volume Den kaukasiska fallenheten (Smockadoll, 2018).
---
2017
Orange, Mia, and Bo Petersson (2017). "'There Can Be No Other Sun in the Sky': Political Myth, Spirituality and Legitimacy in Contemporary Kazakhstan.", Catharina Raudvere (ed): Contested Memories and the Demands of the Past. Springer International Publishing, 25-47.
Petersson, Bo (2017a) 'Perspektiv på östutvidgningen: EU:s triumf eller fröet till dess undergång?', B. Engelbrekt, A. Michalski & L. Oxelheim (red): Årsboken Europaperspektiv. Stockholm: Santérus förlag, 55-82.
Petersson, Bo (2017b) "Putin and the Russian Mythscape: Dilemmas of Charismatic Legitimacy", Demokratizatsiya 25:3, 235-254.
Petersson, Bo & Lena Kainz (2017): 'Migration in the Media: Metaphors in Swedish and German News Coverage', NORDEUROPAforum Jhg 2017: 38-65, https://edoc.hu-berlin.de/bitstream/handle/18452/19159/NEF2017_Art_Petersson_Kainz_Migration%20in%20the%20Media.pdf?sequence=1&isAllowed=y
Special issue of Sport in Society: When the party is over: developments in Sochi and Russia after the winter Olympics 2014. Guest editors: Bo Petersson, Karina Vamling and Alexandra Yatsyk. Vol. 20, No 4, April, 2017. Routledge.
More information
Petersson, Bo. 2017. 'Perspektiv på östutvidgningen: EU:s triumf eller fröet till dess undergång?' I: Tilliten i EU vid ett vägskäl. Europaperspektiv 2017. Santérus förlag.
http://www.svtplay.se/klipp/12199866/tilliten-i-eu-vid-ett-vagskal—del-1
Demant Fredriksen, Martin & Katrine Gotfredsen: Georgian Portraits. Essays on the Afterlives of a Revolution. Zero Books, 2017.
http://www.zero-books.net/books/georgian-portraits
---
2016
Hutcheson, Derek H. & Bo Petersson. 2016. "Shortcut to Legitimacy: Popularity in Putin's Russia," Europe-Asia Studies, DOI: 10.1080/09668136.2016.1216949
Petersson, Bo (2016) 'Legitimacy, popularity and the construction of political myth' (in Russian), Simvolicheskaya politika, no. 4, 52-64.
Vamling, Karina. 2016. "The Internet as a Tool for Language Development and Maintenance? The Case of Megrelian." In: Endangered languages of the Caucasus and Beyond, edited by Ramazan Korkmaz and Gürkan Doğan. Brill pp. 244-257. http://booksandjournals.brillonline.com/content/books/b9789004328693_018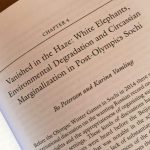 Petersson, Bo and Karina Vamling. 2016. "Vanished in the Haze: White Elephants, Environmental Degradation and Circassian Marginalization in Post-Olympics Sochi" Megaevents in Post-Soviet Eurasia. Shifting Borderlines of Inclusion and Exclusion, edited by Andrey Makarychev and Alexandra Yatsyk, Palgrave Macmillan, pp. 59-76. More info about the book
Gotfredsen, Katrine B. 2016. "Enemies of the people: Theorizing dispossession and mirroring conspiracy in the Republic of Georgia." Focaal—Journal of Global and Historical Anthropology, 74: 42–53
Emil Edenborg. 2016. Nothing more to see: contestations of belonging and visibility in Russian media. Lund University & Malmö University, Faculty of Culture and Society. Doctoral dissertation. More informaiton